CONTACT
P: (888) 802-6888
F: (561) 998-7856
5301 N Federal Hwy Suite 150
Boca Raton, FL 33487
www.podiatry.com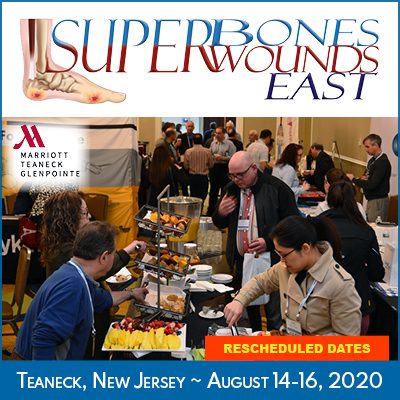 PRESENT E-LEARNING SYSTEMS
PRESENT e-Learning Systems has emerged as the leader in the dynamic field of multimedia online medical education and social networking. As more and more continuing medical education moves from live venues to the online realm, PRESENT e-Learning Systems has developed many of the enabling technologies to create high quality effective educational programming.
PRESENT e-Learning Systems has brought leaders in the field of clinical medicine together to create the world's most comprehensive repository of cutting edge information and research for all those who care for patients. These world renowned clinicians and researchers have sought out PRESENT e-Learning Systems to provide professional teaching materials designed to improve the skills of those professionals tasked with the care of patients.
UPCOMING CONFERENCE
Superbones Superwounds East
The 2020 Superbones Superwounds East Conference focuses on advanced trauma and reconstructive surgical skills and wound care utilizing the most advanced biological techniques and products. The conference provides an environment of learning and collaboration with the top key opinion leaders in podiatric medicine and surgery. Hundreds of your colleagues attend Superbones Superwounds conferences each year for that education recharge that they need to keep their skills updated and fulfill their state CME requirement.
Top podiatric teachers take the podium to discuss the latest surgical procedures and techniques in healing the lower extremity. Rotating state-of-the-art workshops provide hands-on training on the newest products and technologies that you can add to your patient care armamentarium on Monday morning.