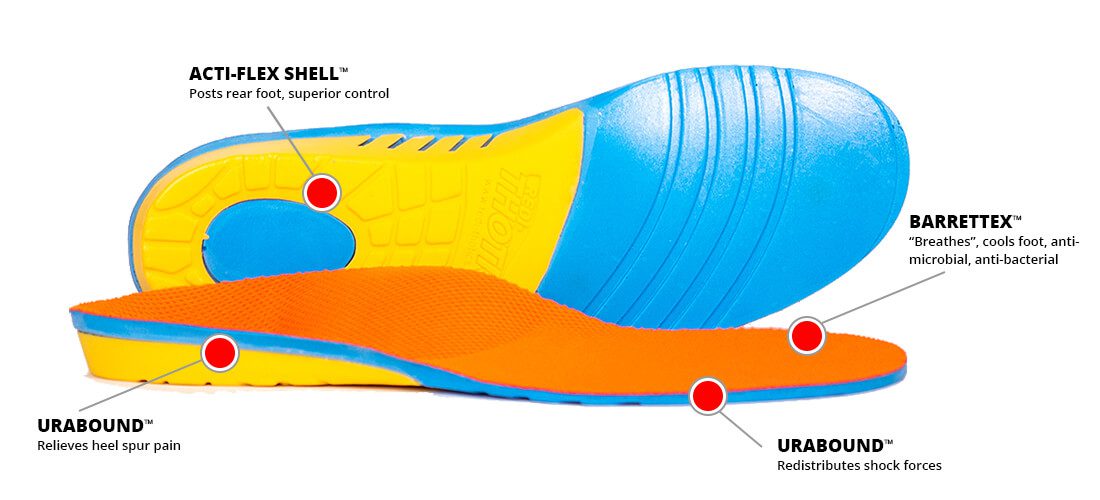 Redi-Thotics CONTROLTM offers relief from heels spurs and high arches.
The Acti-Flex ShellTM will support and cradle the arch while our UraboundTM layer offers continuous support of the arch and metatarsals.
Teardrop cut-out offloads heel pain from plantar fasciitis.
The BarrettexTM top cover wicks moisture away while maintaining a soft upper for extra comfort and dryness.
SPECIAL DISCOUNT OFFER
Complete the Form Below and Receive a Special Discount Offer
from Redi-Thotics on the CONTROL OTC
CONTROL OTC SPECIFICATIONS
SIZES
MEN
5 – 6.5 (A) | 7 – 7.5 (B) | 8 – 8.5 (C) | 9 -9.5 (D) | 10 – 10.5 (E) | 11 – 13 (F) |13.5 – 15 (G)
WOMEN
6 – 7.5 (A) | 8 – 8.5 (B) | 9 – 9.5 (C) | 10 -10.5 (D) | 11 – 11.5 (E) | 12-14 (F) |14+ (G)
| Layer | Feature | Benefit |
| --- | --- | --- |
| Top Cover | BarrettexTM | "Breathes", cools foot, anti-microbial, anti-bacterial |
| Fill Layer | UraboundTM | Redistributes shock forces |
| Support | Acti-Flex ShellTM | Posts rear foot, superior control |
| Heel Pad | UraboundTM | Relieves heel spur pain |