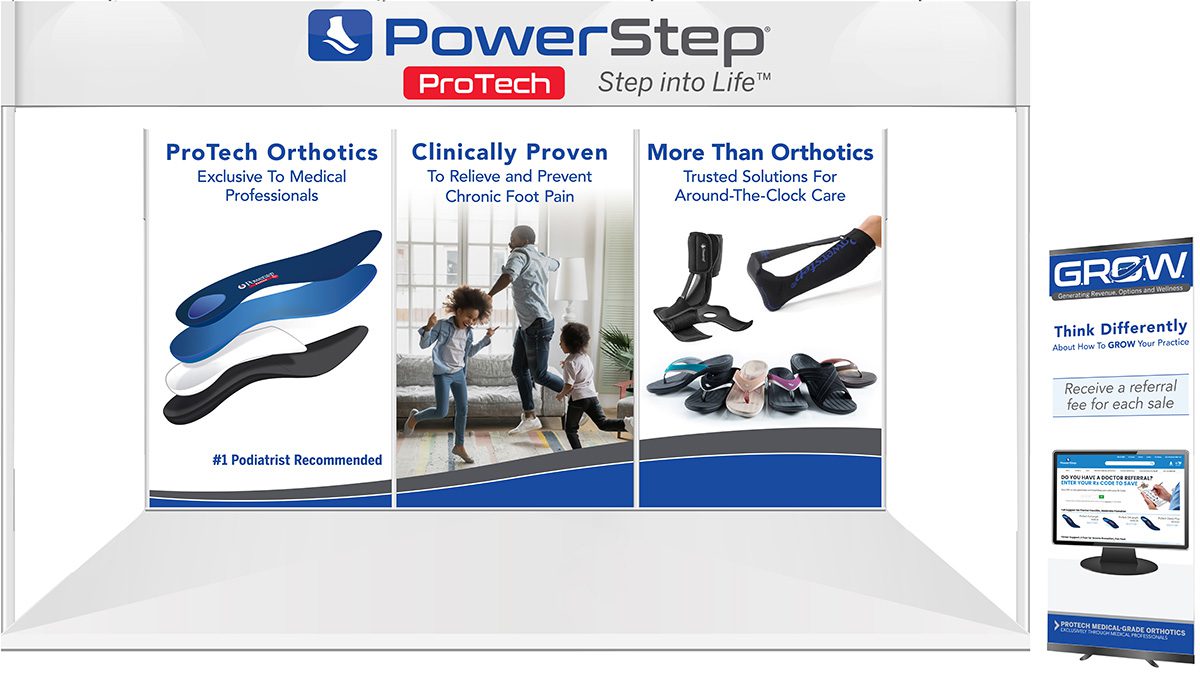 PowerStep
PowerStep® orthotics have been clinically proven to improve foot function, decrease foot pain, increase sense of stability and improve comfort regardless of the nature of the presenting complaint*, and it is the #1 prescribed brand* among podiatrists. Established over 25 years ago, PowerStep manufactures the highest quality orthoses for preventing and relieving the most common foot problems. The key to the company's success has been a combination of effective, affordable podiatrist-designed products and outstanding customer service.
Over 4,000 medical professionals prescribe PowerStep® ProTech orthotics. The ProTech line is only available to medical professionals, and in-office dispensing allows doctors to offer patients immediate and affordable pain relief as a first-line therapy for mild conditions while considering or waiting for custom orthotics.
The PowerStep ProTech line features a full assortment of medical-grade polypropylene supports to meet all prefabricated orthotic needs. These orthotics feature arches calibrated with flexibility, dual-axis foot control, and stabilizing heel cradles with PORON® cushioning to provide first-line therapy for plantar fasciitis, heel spurs and other conditions – relieving heel and arch pain, as well as knee and lower back pain.
All PowerStep® products are approved by the American Podiatric Medical Association. PowerStep's mission is to provide the most effective products available for preventing and relieving common foot problems.
PowerStep ProTech
Medical providers benefit from exclusive, Podiatrist-designed medical supports that are widely endorsed and referred by physicians and accepted by the American Podiatric Medical Association. Distinguish your practice with a quality, therapeutic product exclusively for medical professionals.
WHY OFFER PROTECH TO YOUR PATIENTS?
#1 PODIATRIST-RECOMMENDED BRAND OF ORTHOTICS
PRODUCTS PROVEN CLINICALLY EFFECTIVE
PODIATRIST DESIGNED, AFFORDABLE SOLUTION
QUALITY MATERIALS AND CRAFTSMANSHIP
EXCLUSIVE TO MEDICAL PROVIDERS
PATIENT CONVENIENCE AND COMPLIANCE
PROUDLY MANUFACTURED IN THE USA
HOW POWERSTEP CAN BENEFIT YOUR PRACTICE
ABILITY TO OFFER AROUND-THE-CLOCK SOLUTIONS
SAME DAY SOLUTION FOR IMMEDIATE PAIN RELIEF
IN-PRACTICE MARKETING TOOLS AVAILABLE
DISPLAY, STORAGE AND DISPENSING SOLUTIONS
PowerStep Clinically Proven to Relieve and Prevent
From can't stand, to can't stand still.
Pain has the power to stop patients in their tracks. PowerStep takes that power back with orthotics that are clinically proven to relieve and prevent chronic foot pain. Save time, money, and hassle over custom orthotics with PowerStep.
PowerStep More Than Orthotics
We have expanded our product offering to help provide support and relieve pain from additional common foot and ankle conditions. Whether you are looking for trusted support or immediate pain relief, you can rely on PowerStep to provide a variety of affordable and convenient solutions. Promote around-the-clock care with PowerStep's footwear and lower extremity products.
PowerStep Offers Dispensing Programs to Fit Any Practice
You can customize the right dispensing program for your practice and your product offerings. The G.R.O.W. program allows you to choose between in-office dispensing, our new Refer Online option, and the ability to refer to a local retailer.
In-Office Dispensing:
Patient convenience with products available same day
Access to ProTech orthotics, exclusive to medical professionals
50% margins, cash sales
Refer Online:
No stocking product or processing patient orders
Still able to access ProTech orthotics, exclusive to medical professionals
Earn a referral fee for each sale and offer a 10% discount to patients
Refer to Retail:
No stocking product or processing patient orders
Control patient care with a trusted brand
Build network of referrals
What is the right program for your practice?