WHO WE ARE
PodiatryMeetings.com was created and co-founded by Sarah Breymeier and Ann Dosen.  Both Sarah and Ann have spent nearly ten years in the podiatry industry, attending dozens upon dozens of podiatric meetings and tradeshows.
Through the years and events, we've made connections and have become colleagues with you – exhibitors, physicians, speakers, and meeting organizers/planners.  We value and appreciate all the experiences we've shared with this incredible industry – which is why we were inspired to create PodiatryMeetings.com!
The goal of this site is to provide all of us valuable reviews, ratings, and testimonials in an effort to help all parties make stronger, informed decisions when choosing which podiatric meetings to attend in the future.  Additionally, we want to assist meeting planners and organizers to have a clearer view of the industry – including knowing which meetings are happening when and where…. and most importantly, being able to obtain unbiased feedback on what makes their meetings successful!
Historically, both exhibitors and physicians have spent valuable time researching the available opportunities for educational seminars. Cost to exhibit or attend, location, number of credit hours, subject-matter, attendee counts, etc; these are all factors that affect final decisions. PodiatryMeetings.com serves as one place we can all go to gather all relevant information to make our decisions a little easier and a lot more efficient!
Sarah and Ann – On The Road
We Can't Wait to See You Out There!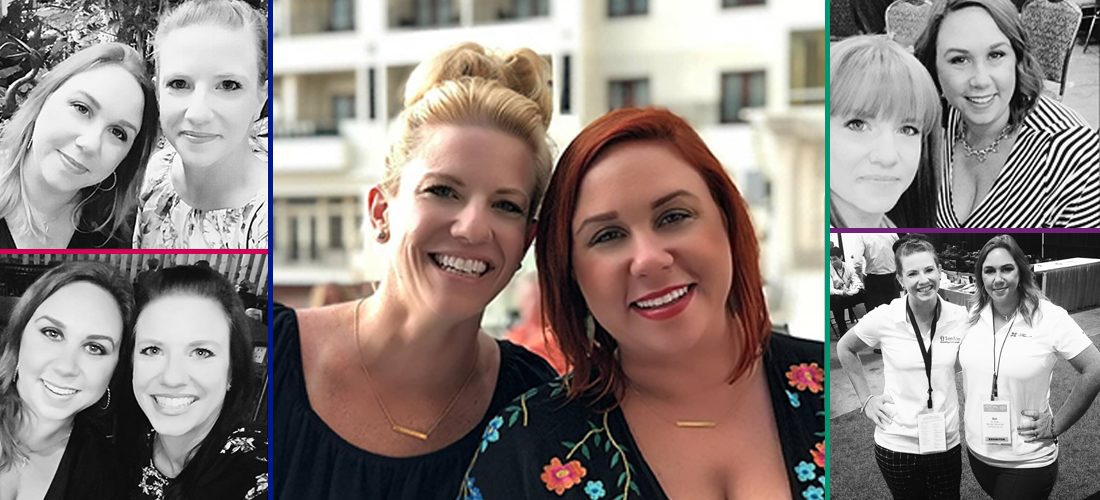 SARAH BREYMEIER | CO-FOUNDER
Sarah has been planning, implementing and managing integrated marketing campaigns for the healthcare industry since 2007.  In September of 2016, she founded Ten Toes Marketing Communications, LLC.  Ten Toes Marketing Communications creates and implements sales and marketing programs for podiatric suppliers, educators and physicians.
Taking experience from the marketing/advertising agency world, Sarah focused her efforts toward the podiatry industry as the marketing director for one of the largest custom orthotic laboratories in the country. After this initial plunge into the foot and ankle space, she was able to combine her discovered passion for podiatry with her expertise in communications to enhance the industry's leader in podiatric patient education; pushing the "network" in a direction that provided meaningful content for patients, while simultaneously using content marketing strategies to drive revenue for physician practices.
In the fall of 2016, Sarah launched Ten Toes Marketing Communications where she strategizes and implements integrated marketing and sales programs for both podiatric industry suppliers and physician practices.
To learn more about the services of Ten Toes Marketing Communications, email Sarah at sarah@tentoesmarketing.com 

ANN DOSEN | CO-FOUNDER
Ann was a full-time Trade Show Coordinator for a successful medical device company attending over 50 trade shows annually. She quickly realized most of the work that goes into registering, planning for and attending these conferences can be done virtually and she can save companies time and money by handling these details efficiently from a distance.
On March 17, 2017 she founded Clover Conferences, LLC.  Many companies rely on their own owners or sales representatives to handle the registration process, taking them away from doing what they do best- selling and working on their business! Clover handles these tasks for you and frees up the time to GROW your business.
Clover Conferences, LLC also works with organizations and associations to help plan and execute successful conferences and seminars. From researching event space to handling attendee registration and organizing the speakers and agenda, we can handle any task that needs to be done. Simplify your conference planning with support from Clover.
Clover prides itself on being meticulous, efficient and organized. We give you more time to focus on the big picture by taking care of the little details.
To learn more about how we can help your organization create or attend a highly successful event, email us at ann@cloverconferences.com