Welcome to the HOKA One One Booth
TAKE SOME TIME TO HOVER AROUND
The HOKA One One Booth is interactive with
various hover points built into the booth! 
Explore the booth by using your mouse to hover over all the different elements in the booth and learn why their footwear could be the next best thing to add to your practice!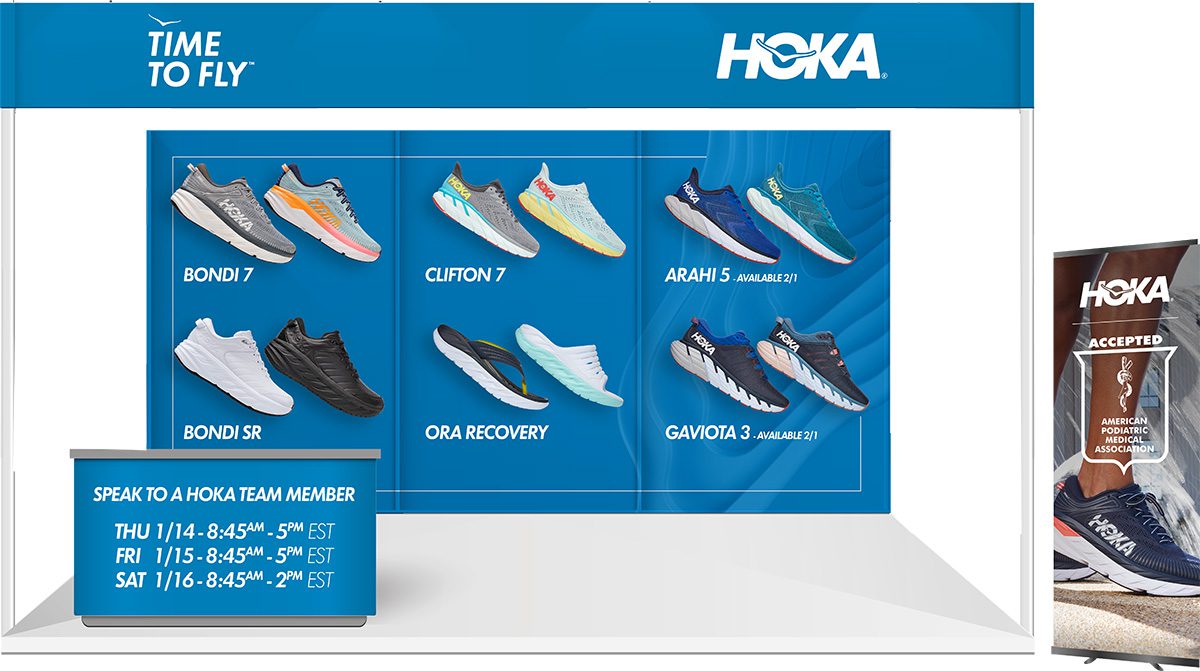 CLICK TO VISIT OFFICIAL WEBSITE
ACCEPTED BY THE APMA - CLICK TO LEARN MORE
Gaviota 3
Delivering signature comfort synonymous with HOKA, the Gaviota 3 offers maximal cushioning and maximal support. Geared for a wide variety of athletes, this reliable road shoe was engineered to provide a balanced ride over any distance.
A premium, stability shoe that defies convention when compared to traditional support shoes, the Gaviota 3 overdelivers on plushness, boasting two more millimeters of foam than its predecessor. Engineered with a J-Frame design to help guide the foot without rigid materials, this new iteration delivers more durability than ever before, fortified with rubber coverage on the outsole.
Bursting at the seams with comfort, the Gaviota 3 is plushness on steroids.
Arahi 5
With every iteration, the Arahi rewrites history as a different class of support shoe. Boasting a seemingly contradictory combination of maximum cushioning and minimal weight, the Arahi 5 delivers a soft, smooth alternative to traditional support shoes.
A brand-new shoe from top to bottom, the Arahi 5 was envisioned with a laser focus on fit. Designed with structured, engineered mesh at the heel for midfoot security and breathable, open mesh at the forefoot, the new upper is grounded in an extremely resilient, ultralight foam. Outfitted with an intuitive pull tab for easy on-and-off, this daily runner offers a refined collar shape that alleviates pressure on the Achilles.
Get set for stability without limits.
Bondi 7
The most cushioned shoe in the HOKA road-shoe lineup, the game-changing Bondi 7 delivers a smooth, balanced ride over any distance.
Engineered with the same full EVA midsole, breathable mesh upper and signature Meta-Rockers technology as its predecessor, the Bondi 7 is updated with a supremely plush collar. Made from ultra-soft memory foam designed to accommodate a narrower heel, the collar conforms to a wide variety of ankles, cradling the Achilles in cushy comfort.
Unquestionably, the Bondi 7 will take you far and wide.
Clifton 7
The latest version of the shoe that changed runners' perceptions of what HOKA could be, the Clifton 7 joins the award-winning Clifton family. Building on the Clifton's best-loved qualities, the "7" continues to deliver the perfect combination of soft and light.
Crafted with the same midsole and ride characteristics, the Clifton 7 features a streamlined silhouette and updated upper made from engineered mesh. Outfitted with a plush collar that eases Achilles pressure, this daily runner is equipped with an intuitive pull tab at the heel for easy on-and-off.
Find your sweet spot in the Clifton 7.
ORA Recovery
You've just finished a long run or grueling race and simply put, your feet need some TLC.
Enter the ORA Recovery Slide and Flip. We put a HOKA ONE ONE oversized midsole and Meta-Rocker into the slide and flip design and love the result. Comfort and support when and where you need them.
Your tired feet just got saved.
BONDI SR TECH SHEET - CLICK TO DOWNLOAD
SAM Show Special
Your Booth Reps
Al Tunstall

HOKA Brand Manager, Independent Specialty
Al joined the HOKA ONE ONE team in 2012 and has witnessed one of the greatest brand growth stories in modern athletic footwear history. Al has attended previous FPMA conferences and looks forward to rekindling earlier relationships and building new ones. We are focused on the podiatric medical community and are appreciative of the trust you have in HOKA as an adjunct to your patient care.
Email: Al.Tunstall@deckers.com
Use the chat feature at the bottom of your screen to start a virtual conversation with Al now!
Alex Guillaume

HOKA Field Experience Rep, Southeast
Email: Alex.Guillaume@deckers.com
Kristen Pensinger
HOKA Field Experience Rep, Southeast
HOKA ONE ONE FEATURED PRODUCTS