Welcome to the Nerve Reverse Booth
TAKE SOME TIME TO HOVER AROUND
The Nerve Reverse Booth is interactive with
various hover points built into the booth! 
Explore the booth by using your mouse to hover over all the different elements in the booth and learn why these neuropathy supplements could be the next best thing to add to your practice!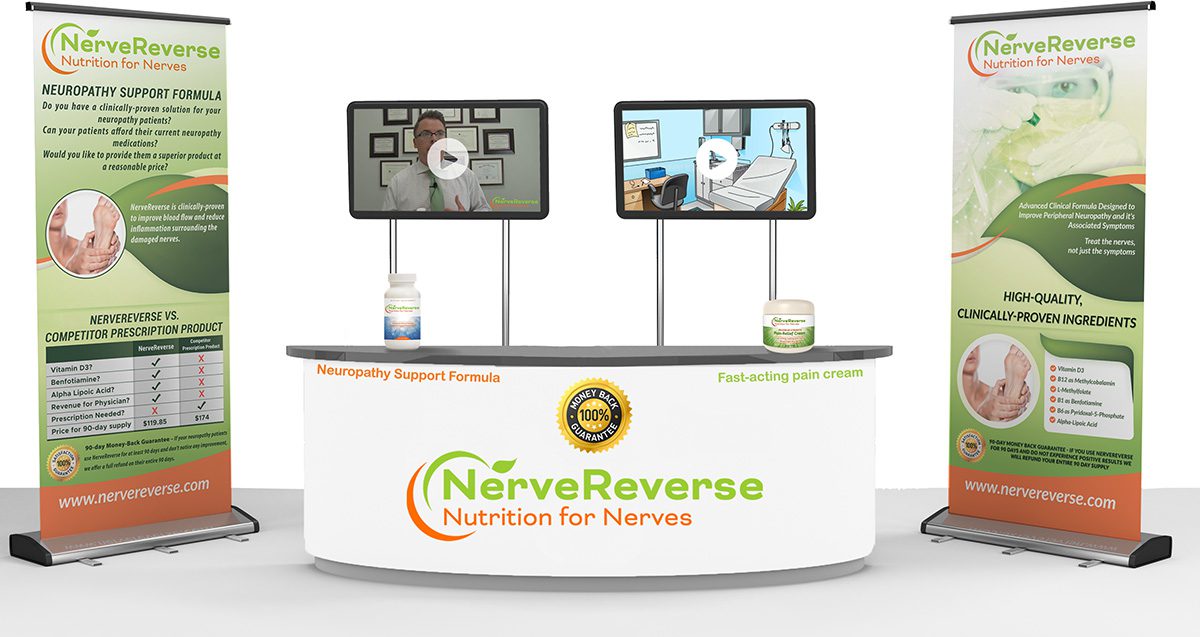 NerveReverse has 3 more ingredients, works fast, is less expensive, doesn't require a prescription, and can be sold in your office.
Does Metanx offer this?
Money-back Guarantee
If your patients use NerveReverse for 90 days and don't experience any improvement in their neuropathy, we will refund their entire 90 days of purchases.
If it doesn't work, you and your patients don't pay!
Neuropathy Support Formula
This all-natural supplement includes 6 clinically-proven ingredients to improve nerve health.
Now your patients can get relief without side effects.
Fast Acting Pain Cream
This fast-acting pain relief cream contains 4% menthol along with other clinically-proven ingredients.
Fast, effective relief without side effects.
Works best when used in conjunction with the Neuropathy Support Formula.
NerveReverse was designed using hundreds of peer-reviewed clinical studies.
70% of patients notice an improvement in their neuropathy within the first 90 days.
52% of patients are still seeing benefits from the product one year after starting.
Click to Watch: Peripheral Neuropathy Solution
Click to Watch - Neuropathy Treatment Options
Your Booth Reps
Ben Pogue
With over 15 years in the medical sales industry, Ben has become an expert at assessing the needs of healthcare providers and patients. His entire career has been spent helping those underserved patient populations where people are looking for answers.
"Neuropathy patients are underserved and frustrated. Most the time they have given up because nothing has given them relief. I created NerveReverse to help the thousands of patients crippled by this debilitating disease. It is a true joy to meet people who again have hope because of our products."
Jeff Klomp
Jeff has been working in the Healthcare industry since 2002.   
He's done everything from delivering prescriptions, compounding, DME Delivery, educating nurses on wound vacs and managing multiple territories.  
He has always had a passion for helping others and loves working in the healthcare industry.  
Jeff has been working with NerveReverse since the beginning and he really enjoys working with people and loves hearing all the great feedback from patients using NerveReverse.
Use the chat feature at the bottom of your screen to start a virtual conversation with Jeff now!