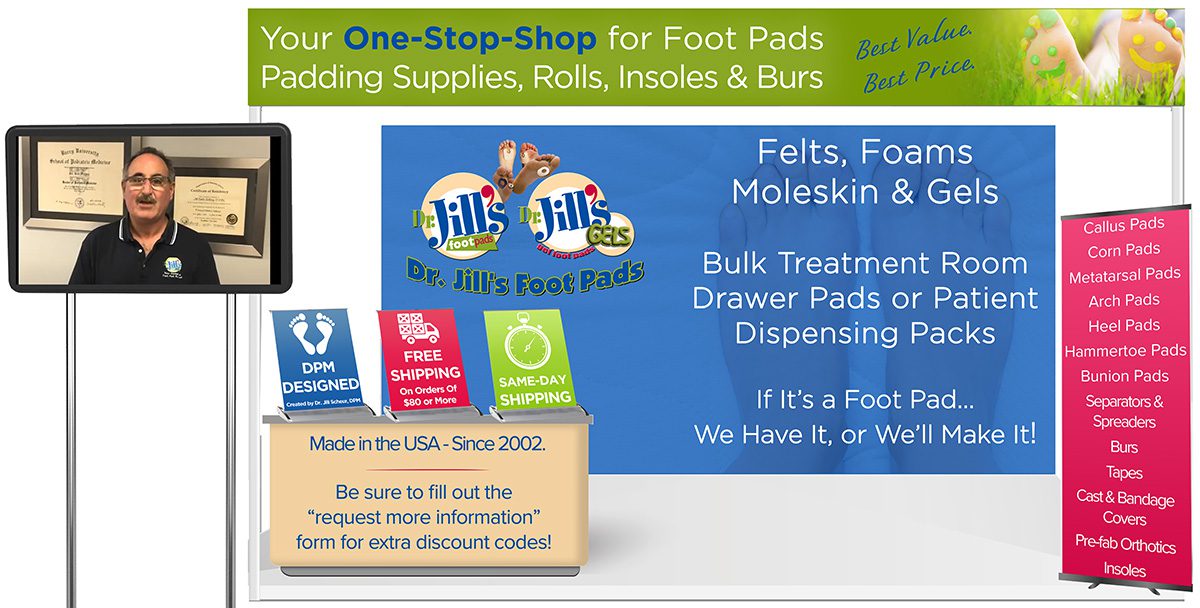 ONE-STOP-SHOP
Dr. Jill's Foot Pads are designed and created by a podiatrist for all your foot padding needs. We are podiatry's complete padding source... PLUS, you are going to receive the best value and the best pricing as we are the direct manufacturer of each product!
Use the form on this webpage to request our complete catalog of products!
CLICK TO VISIT OUR WEBSITE
All Your Foot Padding Needs
Dr. Jill's Foot Pads manufacturers felt, foam, moleskin and gel foot pads. If you need any type of foot pad... we have it or we will make it.
Use the form on this webpage to request our complete catalog of products!
Save Money with Bulk Pads | Make Money Dispensing Pads & More!
BOOTH SPECIAL: GET 15% OFF YOUR ENTIRE ORDER
Our product line includes:
Pads for Various Areas and Indications
Separators and Spreaders
Burs
Tapes & Covers
Pre-Fab Orthotics & Insoles
DPM-DESIGNED
Dr. Jill's Foot Pads, Inc was founded by Jill Scheur, DPM in 2001.  Being a Podiatrist, Dr. Jill Scheur felt a strong need to provide patients and podiatrists with quality foot pads at the lowest prices.
FREE SHIPPING
We are happy to save you dollars by providing FREE SHIPPING on orders of $80 or more!
SAME-DAYS SHIPPING
We know how important it is to supply your patients in a timely manner. Therefore, we offer free same-day shipping on all orders!
Made in the USA
Our products are manufactured in the United States and we hope you are one of the 12,000+ Podiatrists, Hospitals, and other Medical Professionals who currently use our foot pads and padding supplies.
Follow Dr. Jill's Foot Pads on Instagram!
Click for Video Message from Dr. JIll's Foot Pads Owner!