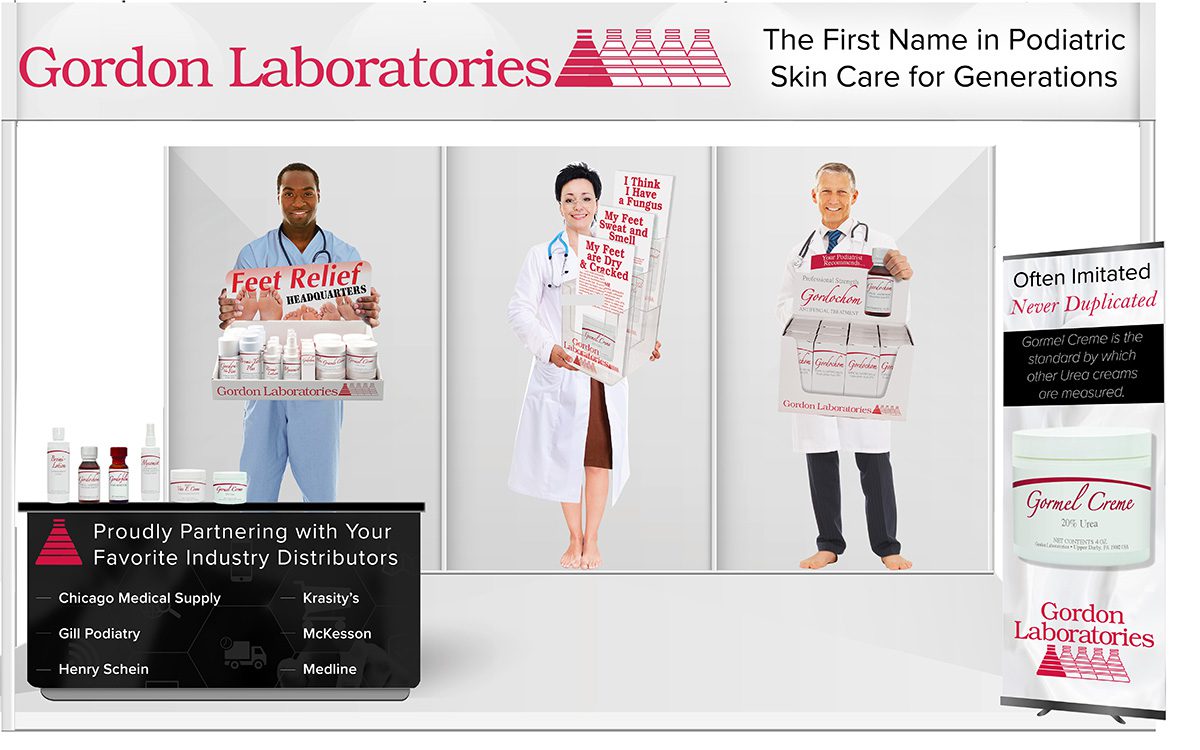 Gordon Laboratories
Gordon Laboratories, the first name in podiatric skin care for generations. The leading manufacturer of topical pharmaceuticals for podiatry, spanning six decades.
Gordon Laboratories extensive product line includes treatments for all types of skin conditions.
Gordon Laboratories quality products are for physician use in the office and patient use between office visits. All of our products are made in the U.S.A.
Your Complete In-Office Dispensing Source
If you are thinking about in-office dispensing, see how easy it is to get started with our wide selection of topicals, affordable pricing, and unconditional guarantee.
Our podiatric suppliers provide your office and patients with:
Antifungals

Antiperspirants

Astringents

Drying Agents

Moisturizers

Wart Removers

And More!
Gormel Creme: Often Imitated, Never Duplicated.
Urea is known for its hydration and keratolytic properties. Gormel Creme - with 20% Urea and a blend of rich emollients - moisturizes, exfoliates, and softens the skin. Gormel prevents and controls the painful cracked skin that can form on heels, and restores the skin to a healthy, radiant look.
Often imitated, never duplicated, Gormel Creme is the standard by which other Urea creams are measured.
Feet Relief: Point of Purchase Display
The display shows some of our topicals for the most common foot conditions.   This is a way to get started dispensing products for patient comfort in between office visits!  The Feet Relief Headquarters POP Display includes:
Gordon's No. Five (spray foot powder)

Bromi-Talc Plus (bromidosis powder)

Bromi-Lotion (antiperspirant lotion)

Mycomist (deodorant spray)

Gordochom (topical antifungal)

Aloe Grande Creme (vitamin-enriched skin creme)

Gormel Creme (20% urea)
Gordonchom: Point of Purchase Dispaly
Gordochom, our premier antifungal, is now packaged in 12  individually boxed bottles in a convenient mini-display.
Trusted Gordon Laboratories Partners
You can purchase Gordon Labs top quality products from your favorite industry distributors:
Chicago Medical Supply

Gill Podiatry

Henry Schein

Krasity's Medical & Surgical Supply

McKesson

Medline
Featured Products
Scroll down to our FEATURED PRODUCTS SECTION to learn more about these popular OTCs!