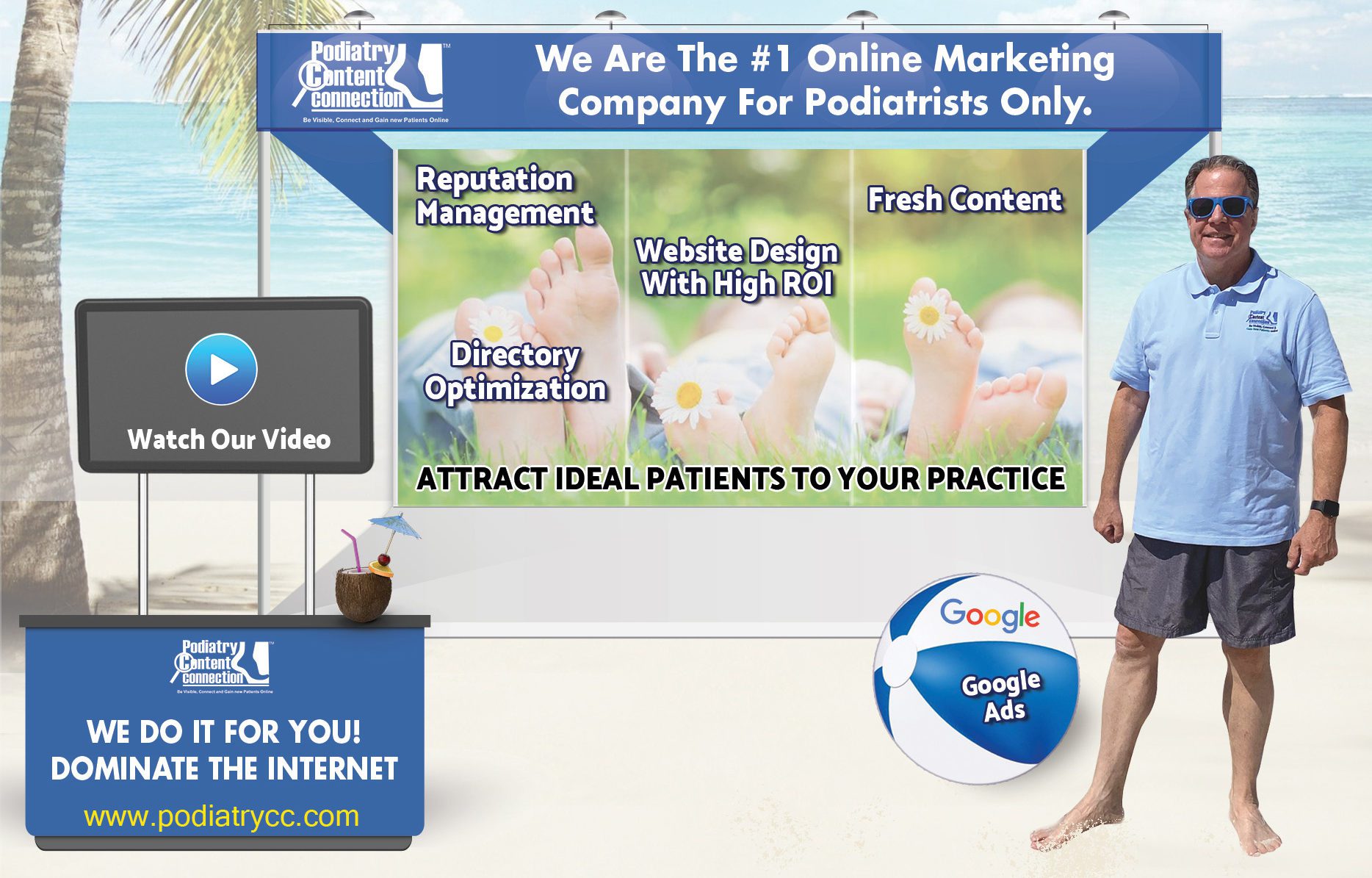 Enhance Your Web Presence to Attract More "Ideal Patients"
Page One of Google
Excellent Reviews
Mobile Website
Twice the Fresh Content
Get Listed Everywhere
Grow Your Practice
"Reputation is everything when it comes to building a digital brand" - Stacey Kehoe
Positive Online Reviews Attract New Patients... Lead patients to choose you above other Podiatrists by ensuring your 4+ star reviews and nice comments are easy to find.
Negative Online Reviews Put Your Practice At Risk... It is upsetting when years of hard work are discredited because negative coverage appears online. To repair your damaged reputation, you must act as soon as possible.
Directory Optimization
We optimize your business listing on 70+ Directory Sites - from ZocDoc to Google My Business!
We claim your existing listings, add new ones, eliminate duplicates, and create a consistent, accurate portrait to present to patients across the web. Use our scanner to compare before and after results! Directory optimization is an important path to online visibility and access.
Having a Great Podiatric Website is vital to your bottom line. It takes just 2 seconds for visitors to judge your website and decide to stay or leave.
At Podiatry Content Connection, we know how to create sites that attract ideal new patients, enhance your reputation and keep your patient pipeline flowing. We only design for Podiatrists.*
Our sites are:
Welcoming and Modern
With continuously added quality content
Search Engine Optimized
Mobile Responsive & HTTPS secure
*Google holds health websites to higher standards than other sites (making a templated site, graphic designer or regular marketing agency a poor option if you want great ROI!)
Fresh, valuable, and consistent Content is at the heart of our business. It's in our name.
The most important SEO (Search Engine Optimization) strategy Podiatrists can employ is to continually offer amazing, searchable content-- blogs, articles, photos, infographics, and videos.
With Podiatry Content Connection, you'll receive weekly fresh content for your website, an educational blog and an article. We'll also push that content out to Facebook for you, boosting your reputation as a trusted and knowledgeable doctor.
Hi, I'm Randy Rosler, National Director of Podiatry Content Connection. I'm here with my Expo Team, Adam and Barbara, and we'd like to help you attract more new and ideal patients.  Contact me at the information below to chat!
Podiatry Content Connection is the #1 Comprehensive Digital Agency for Podiatrists Only.
We do all the work for you!
10X Return on Investment for most clients
We have an amazing 96% client retention rate
Written Buyer Protection / Performance Guarantee
Podiatry Content Connection's clickable Google ads are designed to deliver immediate results - new patient appointment and leads.
Our PCC strategy is to laser-target the correct message to a specific type of patient within a geographical area. We create winning, multi-layered campaigns of quick-to-hook, but carefully crafted, messages leading to spontaneous, and profitable, clicks!
Podiatry Punch
1/2 cup pineapple
1 jigger of SEO
2 tbsp quality content
1 fresh blog
Top with Google Ads to taste