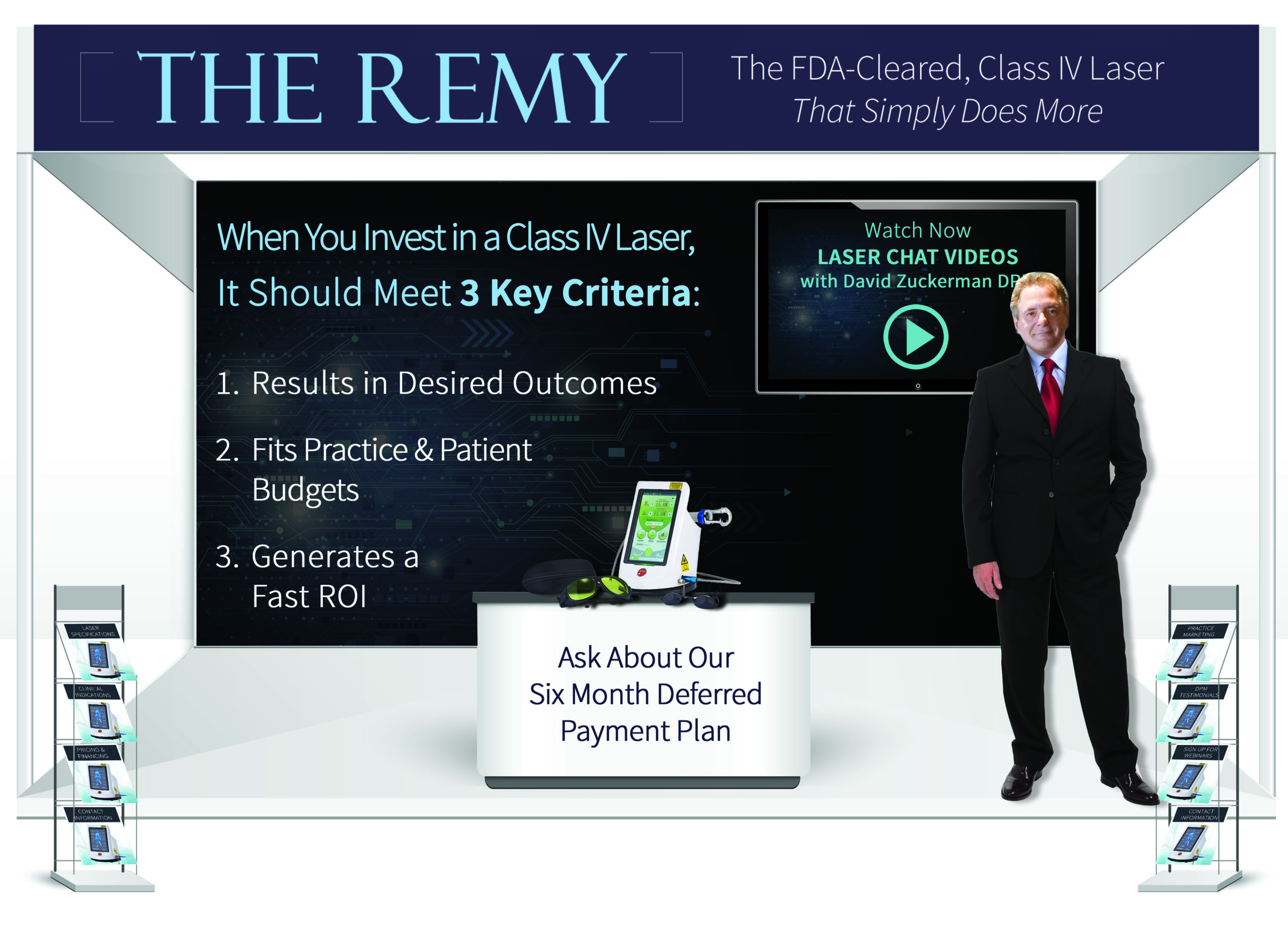 Remy Class IV Laser
The Remy is a Class IV, FDA-Cleared laser capable of treating various conditions, paired with an innovative and practical design.
Patient Outcomes
There are several high-cost technologies on the market that claim to provide the best in pain management and/or other conditions.Unfortunately, they are not all proven like Class IV lasers.
The Remy is FDA-Cleared for:
Pain & Inflammation
Onychomycosis
Surgery (incision, excision, coagulation, evaporation)
The benefits of laser therapy and pain management include:
Accelerated cellular reproduction and growth - which is key in repairing the cells of cartilage, bone, tendons, ligaments, and muscle tissue.
Reduced scar tissue that typically develops from specific injuries. When patients have less scar tissue, the likelihood of chronic pain is also reduced.
Decreased inflammation and increased blood circulation.
Laser for Every Budget
When lasers are priced too high, physicians must increase the treatment price for their patients, resulting in fewer appointments and lack of care.
By keeping The Remy cost down, podiatrists can keep their fees lower and real patient results can be obtained.
Fast ROI
Regardless of how much a practice charges patients for laser treatment, the rate at which the laser will "pay for itself" and the practice begins seeing profit is exponentially increased with The Remy in comparison to other lasers on the market.
This is due to the fact that Zuckerman Future Technologies is a direct importer of The Remy technology. Dr. Zuckerman has created a business model to keep the price point of this cutting-edge technology at an incredibly competitive rate.
In addition to directly importing, Dr. Zuckerman has opted out of maintaining an expensive facility for inventory and upholds a limited staff. This helps to keep physicians costs down by roughly 40%!
A final key regarding the low cost of The Remy does not indicate low quality. In fact, The Remy performs as well, if not better, and has more features than other Class IV lasers priced over $50K.
Finally, Zuckerman Future Technologies helps ensure faster ROI by including a TURNKEY MARKETING TOOL KIT with every Remy purchase!
Remy Laser Specifications
Wavelength: 650 | 810 | 915 | 980
Peak Power: 30w
Operation Mode: Continuous Wave (CW) or Repeat Pulse
Pilot Beam: Red Diode Laser of 650nm
Display: 7″ True Color Touch Screen | 600 x 1024 resolution
Dimensions: 160 (w) x 180 (l) x 235 (h) mm
Weight: 4 lbs
Remy Laser Indications
The Remy can be utilized to treat the following patient conditions:
Achilles Tendonitis
Arthritis
Bone Spurs
Bunions
Inflammation & Pain
Post-Surgery
PTTD
Metatarsalgia
Neuroma
Shin Splints
Sprains & Tears
Warts
Wounds
Remy Laser Pricing & Financing
You can receive The Remy with its incredibly low price along with a financing plan of 6-months deferred payments, and then monthly payments of only $284 a month!
Remy Laser Contact Information
Remy Laser Practice Marketing
Zuckerman Future Technologies partners with Ten Toes Marketing Communications to provide you with customized marketing tools to make your current and prospective patients aware of your new immediate pain relief treatment option!
Your TURNKEY MARKETING TOOL KIT includes:
Educational Patient Videos
Brochures
In-Office Posters
Post-Cards/Hand-Outs
Appointment Cards
Advertisements for Various Channels
Website Verbiage and Graphics
Remy Laser Testimonials
I have had the pleasure to work with Dr. Zuckerman and his laser the Remy for the past several months. In order for the Remy to be of value for the office you need a support team. Dr. Zuckerman had been pivotal in providing support both in technical ability and in advertising to the patients in your office.  Dr. Zuckerman is very hands on in teaching and answering your questions personally and quickly.
I have found the Remy to be an extremely valuable tool not only in helping reducing patients pain and resolving their fungus but in adding revenue to my practice. It provides another tool to your arsenal of treatment that is a very effective in helping my patients. I love how the Remy is so versatile in switching from nail treatment to the fasciitis probe in less than a minute. The saved settings screen makes it easy to choose the correct treatment for the patient quickly.
I'm very satisfied with the Remy and with all the devices I looked at I'm happy I purchased the Remy.
Chris Ferguson DPM | New West Podiatry
Contact David Zuckerman DPM
Contact David Zuckerman DPM
Remy 6-Month Deferred Payments
You can receive The Remy at it's incredibly low price with a financing plan of 6-months deferred payments, followed by low and manageable monthly payments!
Simply Does More
The Remy is FDA-cleared to treat a wide range of patient conditions from pain/inflammation and onychomycosis… to surgical treatment of plantar and mosaic warts (without the use of anesthesia).
With interchangeable handpieces that can be switched with a simple finger-switch, shifting from therapy to fungus… or fungus to surgery… or back to therapy… is achieved smoothly and efficiently.