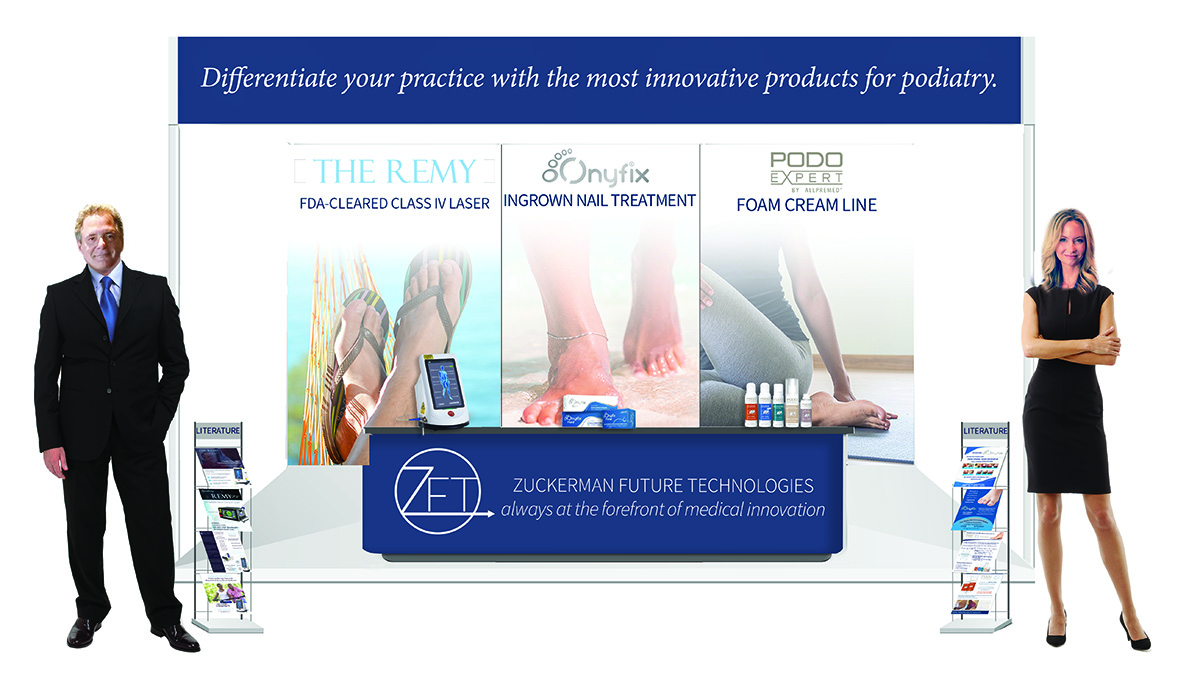 The Remy Class IV Laser
The Remy is a Class IV, FDA-Cleared Laser Capable of Treating Multiple Conditions, Paired with Innovative & Practical Design.  It is FDA-Cleared to treat pain/inflammation, fungus, and surgical procedures (i.e. mosaic warts with no anesthesia).
Onyfix
Onyfix is a brand new nail correction system from Germany that is used to treat and prevent ingrown toe nails. It is completely pain-free with no contraindications.
PodoExpert by Allpremed
This patented, clinically-proven formula achieves skin repair because of two unique features only found in the PodoExpert line:
LIPO 2 Skin Repair Technology
BarrioExpert Foam Technology
Remy Specifications
The Remy is a Class IV, FDA-Cleared Laser provided by Zuckerman Future Technologies. It includes both dual and quad wavelength options, which can be customized to fit your treatment protocol.
The interchangeable handpieces can be switched with a simple finger-switch, making treatment from one patient to the next run smoothly and efficiently.
Wavelength: 650 | 810 | 915 | 980
Peak Power: 30
Operation Mode: Continuous Wave (CW) or Repeat Pulse
Pilot Beam: Red Diode Laser of 650nm
Display: 7″ True Color Touch Screen | 600 x 1024 resolution
Dimensions: 160 (w) x 180 (l) x 235 (h) mm
Weight: 4 lb
Onyfix Start Kit
This system is easy for the practitioner to use and a great addition to any practice for patients who suffer from involuted nails but can't or won't have surgery to correct the problem
Your Starter Set Includes Enough Materials for Approximately 60-80 Patient Applications
1 Primer 5ml tube
Hard 4.5g tube
1 Soft 3ml tube
1 Blue Light LED Lamp
6 Cannulas (6pk)
1 Spatula
4 Cotton-Tipped Applicators
PodoExpert Foam Cream Line
The products in the PodoExpert line provide a pharmaceutical level formula unlike anything currently available on the market. These products offer skin-equivalent lipids and can deliver them in a way that is bioavable to skin that will induce actual skin repair!
Foam creams last much longer than comparable emulsions. They offer innovative skin care that repairs and regenerates the skin barrier.
BarrioExpert LIPO2 Skin Repair Technology was developed on the basis of BarrioExpert Technology and its familiar benefits. The structural characteristics of the skin-related lipids in these products are similar to the lipids that occur naturally in the skin.
Contact David Zuckerman, DPM
Watch PodoExpert Introduction from Bree Wright, RN, CFCN and Sign Up for Our Next Onyfix/PodoExpert Webinar
Visit Zuckerman Future Technologies Webiste
Download Remy Class IV Laser Informative Flyer
New RemyFX Class IV Laser - Download Informative Flyer
Download Remy Informative Brochure
Remy Laser Turnkey Marketing Tool Kit - Click to See Materials
Download Onyfix Before and After Photos/Flyer
Onyfix Practice Poster - Click to View/Download
PodoExpert Product(s) Flyer - Click to Download
PodoExpert for Dry/Cracked Skin - Click to Download Flyer