Welcome to the PICA Booth
TAKE SOME TIME TO HOVER AROUND
The PICA Booth is interactive with
various hover points built into the booth! 
Explore the booth by using your mouse to hover over all the different elements
in the booth and see why we are a leading provider of medical professional liability
coverage for Podiatric Physicians!
PICA is a proud diamond sponsor of SAM2021 and the
endorsed medical professional liability carrier of the FPMA.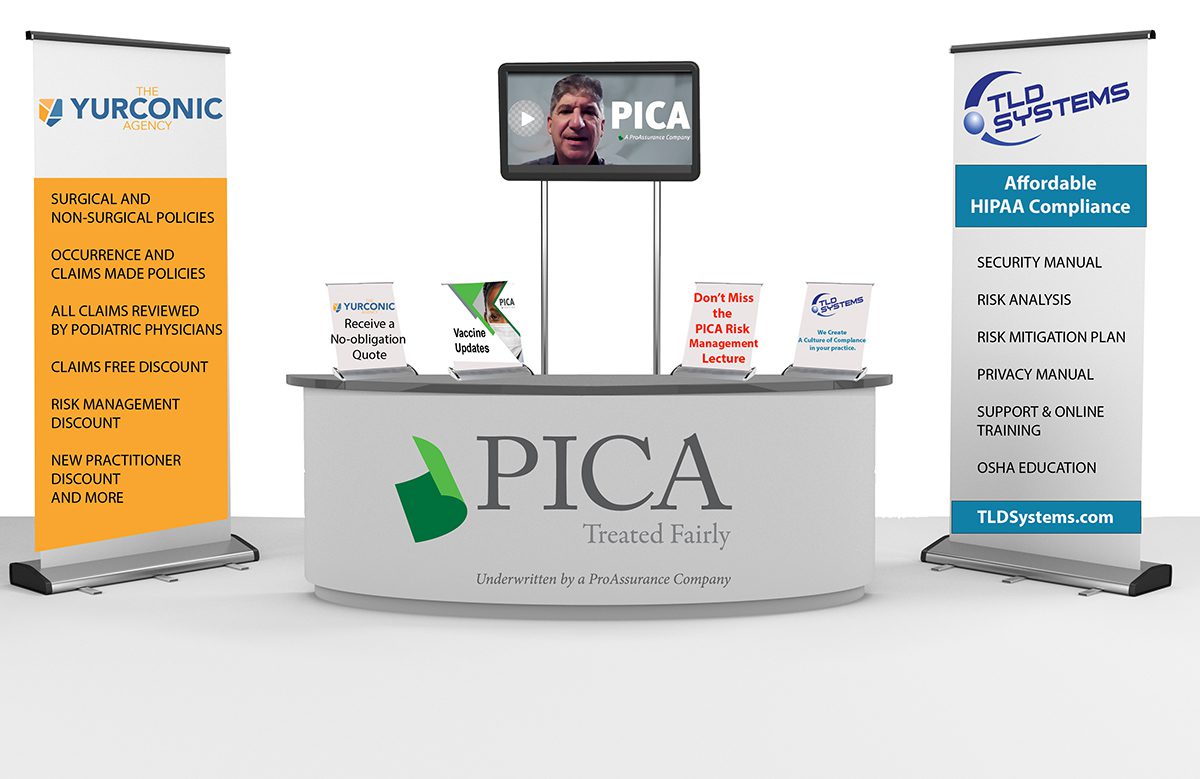 CLICK TO VISIT OFFICIAL WEBSITE
FPMA Welcome Message from Dr. Ross Taubman - Click to Watch
TLD Systems - Click for More Information
The Yurconic Agency - Click to Learn More
Click here for a No-Obligation Quote
Click for Vaccine Updates
Click for Risk Management Lecture
Bingo Prize
$50 Amazon Gift Card
Use the button at the bottom
of this page to register to win!
Your Booth Reps
Becky Sargent
Hi! We're excited you stopped by our virtual booth. Don't miss out on all of the resources we've prepared for you. If you have a question we're just a chat away!
Email: BeckySargent@ProAssurance.com
Jennifer Richardson
Hi. I am your agent here at The Yurconic Agency. Let me tell you why I am confident now is the time to place your Medical Professional Liability Insurance with PMAA and enjoy all the benefits from PICA.
Email: JRichardson@Yurconic.com
Brian Cesario
Sales Director at PICA
Hello! Thank you for stopping by. We are excited to visit with our PICA policy holders and meet with new physicians. Ask me about completing a no-obligation quote for you today.
Dr. Michael Brody
Hello! I'm Dr. Michael Brody. HIPAA compliance is more than a once and done thing. You and your staff need to understand the HIPAA regulations and take them into account when dealing with and processing patient information. Ask me how we can make your office a "Culture of Compliance. PICA Insureds receive a 10% discount from TLD Systems when they sign up.
Use the chat feature at the bottom of your screen to chat with the PICA team now!