Welcome to the CEA Medical Booth
TAKE SOME TIME TO HOVER AROUND
The CEA Medical Booth is interactive with
various hover points built into the booth! 
Explore the booth by using your mouse to hover over all the different elements in the booth and learn why their innovative equipment could be the next best thing to add to your practice!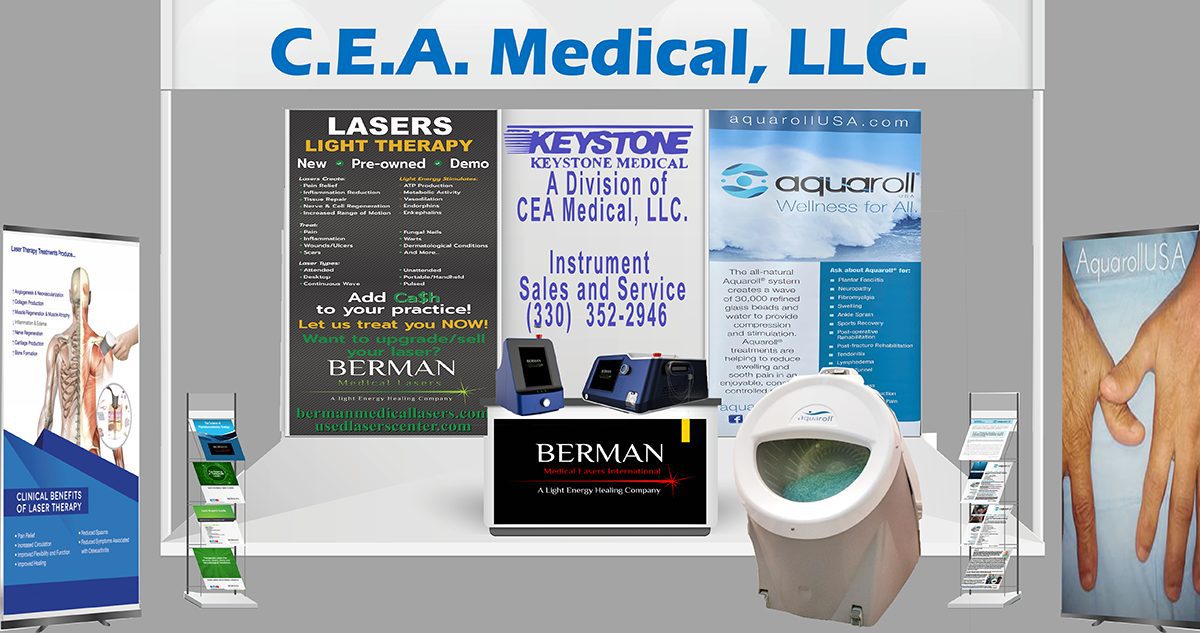 Visit Berman Partners Website - Click Here
Lasers & Light Therapy
Lasers Create:
Pain Relief
Inflammation Reduction
Tissue Repair
Nerve & Cell Regeneration
Increased Range of Motion
Light Energy Stimulates:
ATP Production
Metabolic Activity
Vasodilation
Endorphins
Enkephalins
Treat:
Pain
Inflammation
Wounds/Ulcers
Scars
Fungal Nails
Warts
Dermatological Conditions
And More...
Laser Types:
Attended
Desktop
Continuous Wave
Unattended
Portable/Handheld
Pulsed
Add Ca$h to your practice!
Let us treat you NOW!
Aquaroll
The all-natural Aquaroll system creates a wave of 30,000 refined glass beads and water to provide compression and stimulation. Aquaroll treatments are helping to reduce swelling and soothe pain.
Ask about Aquaroll for:
Plantar Fasciitis
Neuropathy
Fibromyalgia
Swelling
Ankle Sprain
Sports Recovery
Post-operative Rehabilitation
Post-fracture Rehabilitation
Tendonitis
Lymphedema
Carpal Tunnel
Reduced Arthritic Pain
The Science of Photobiomodulation Therapy - Click to Download
Science of Therapeutic Lasers - Click to Download
Laser Buyers Guide - Click to Download
Wound Care Laser Treatment Guide - Click to Download
Aquaroll Coding Reference Guide - Click to Download
Healthcare Benefits of Aquaroll - Click to Download
Sports Benefits of Aquaroll - Click to Download
Patient Testimonials - Click to Read
TREATMENT POSTER - CLICK TO DOWNLOAD PDF
AquaRoll USA (click for larger view)
Your Booth Reps
Eric Cooper
Eric Cooper started C.E.A. Medical, his own Orthopedic distributorship in 1995, working with both Podiatrists and Orthopedic Surgeons. Eric helped design and bring to market numerous implantable devices. Working with the doctors in the operating room, Eric noticed the struggles and shortcomings of medical instrumentation. From this Eric created a new instrument company, Keystone Medical, specializing in small bone surgery.
Use the chat feature at the bottom of your screen to start a virtual conversation with Eric now!
Michael Berman
Michael Berman founder of Berman Medical Lasers has been utilizing and applying laser photon energy technology for 15+ years in the treatment of Pain Relief, Inflammation, Wounds, Warts, Neuropathy, Onychomycosis, etc.…. Our suite of varying power & wavelengths plus Michael's technical and practical experience uniquely positions Berman Medical Lasers to provide the best sustained outcomes for doctors' patients.
CEA MEDICAL FEATURED PRODUCTS
Mycotic Nail Cutter
Polakof
Corner Tool
Tissue Nipper