Welcome to the Dia-Foot Booth
TAKE SOME TIME TO HOVER AROUND
The Dia-Foot Booth is interactive with
various hover points built into the booth! 
Explore the booth by using your mouse to hover over all the different elements in the booth and learn why their top brand diabetic shoes, OTC orthotics and diabetic inserts could be the next best thing to add to your practice!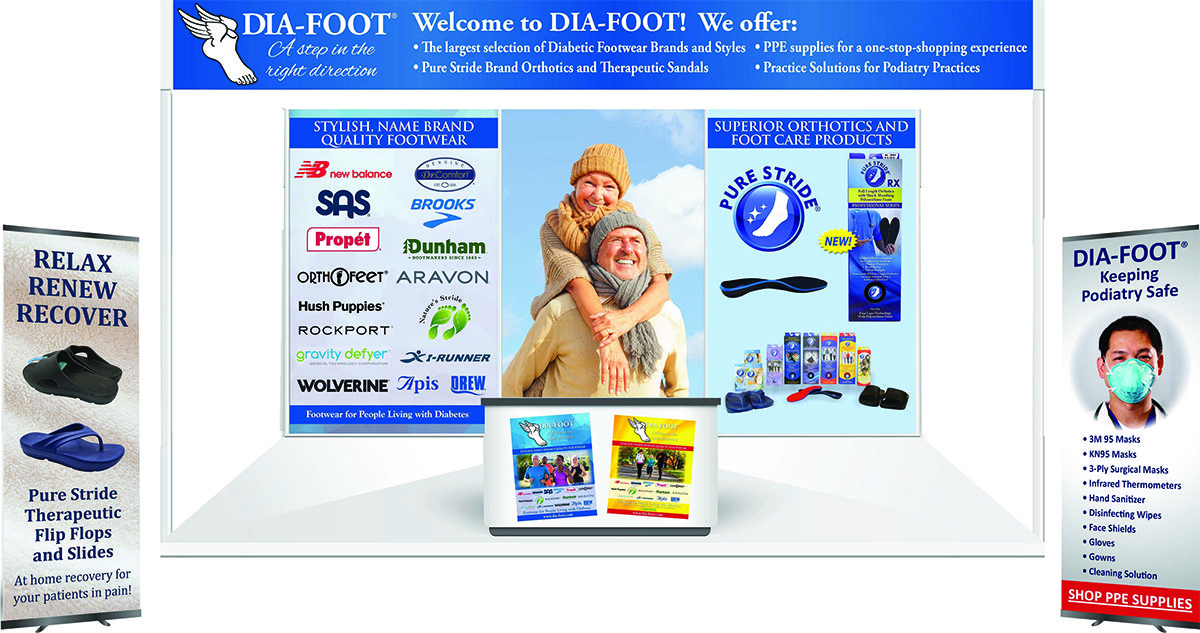 CLICK TO DOWNLOAD COMPLETE CATALOG
CLICK TO DOWNLOAD INSURANCE CATALOG
Keeping Podiatry Safe
Dia-Foot offers PPE supplies for the Podiatry Community to keep you safe.
Our newest Pure Stride Brand RX orthotic is manufactured with Polyurethane, well known for its shock-absorbing and cushioning abilities that make it highly durable with the ability to disperse energy; a very effective combination!
All of our Pure Stride RX orthotics are not sold online and are reserved for Podiatrists and Pedorthists to dispense to their patients.
Dia-Foot provides a one-stop shopping for diabetic footwear, offering shoes from 16 top brands and styles to meet all patients lifestyle needs. All of our shoes are PDAC approved and competitively priced. Click on the Catalogs below to view our current selection. We also provide Touchless Catalogs Postcard with QR codes for safe and remote viewing!
Your Booth Reps
Gary Pretner
David Manolakos