Welcome to the NEMO Health Booth
TAKE SOME TIME TO HOVER AROUND
The NEMO Health Booth is interactive with
various hover points built into the booth! 
Explore the booth by using your mouse to hover over all the different elements in the booth and learn why TRAKnet could be the next best thing to add to your practice!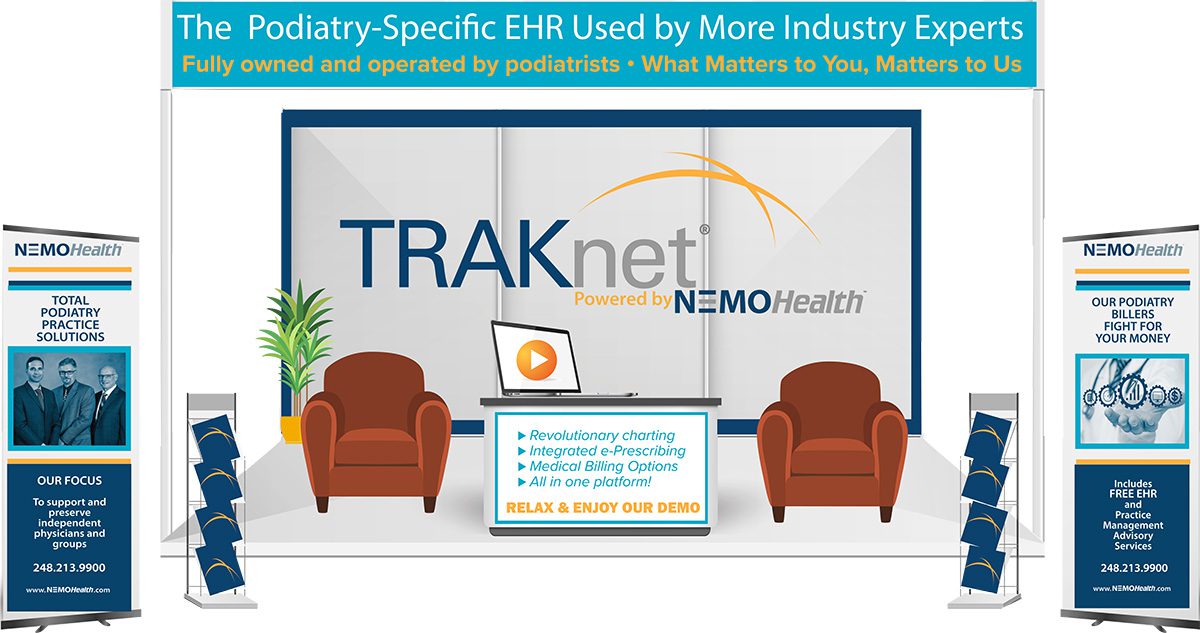 EHR & PRACTICE MANAGEMENT
TRAKnet is a product of NEMO Health, a podiatrist-led company that provides solutions to medical practices so they can focus on what matters - their patients. TRAKnet is a cloud-based, podiatry-specific, and the most comprehensive single sign-on system in the industry. With integrated scheduling, charting, and billing, TRAKnet is the only software system your practice needs.
CLOUD SECURITY
In accorance with ISO 27001, HIPAA, and the Health Information Technology for Economic and Clinical Health (HITECH) Act, we are required to ensure the highest levels of safety and security for TRAKnet EHR while it is being used in our clients' offices. Our ONC-2015 certification assures that this has been done. TRAKnet Cloud utilizes Microsoft Azure, the industry leader and most-trusted cloud hosting solution.
MEDICAL BILLING SERVICE
NEMO Health has options for all your medical billing needs. Whether you want to completely outsource your billing or just need help expediting submissions and posting payments, our podiatry billing experts can help improve your cash flow and reduce accounts receivable payment times.
E-PRESCRIBING
NEMO Rx is a web-based, comprehensive solution with real-time benefit and eligibility verification that ensures you and your patients are covered. It provides access to your patients' medication histories and formularies while offering automatic drug interaction checks. Powered by Surescripts, NEMORx offers a vast database of pharmacies and even cash discount pricing for patients without insurance coverage.
PARTNER PROGRAMS
NEMO Health has strong relationships with its partner companies for the integration of value-added services to TRAKnet. We have forged strategic partnerships with third-party software and service companies that continually provide our customers with "best in class" capabilities. These capabilities are a seamless extension of TRAKnet's core solution.
CLEARINGHOUSE SERVICES
NEMO Health partners with both Availity RCM and TriZetto Provider Solutions, two of the top clearinghouses in the nation. TRAKnet users have the choice of utilizing either company, and can be assured that they will receive the best-in-class service we expect of all our integrated partners.
MY PRACTICE REPORT CARD
As a TRAKnet user, you have access to a unique snapshot of your practice's financials. Compare yourself to your peers across the country. Find out how your total charges or number of claims billed each month compare to your colleagues. TRAKnet is the only EHR that can deliver this information in real time.
DOCSHOP PRO
NEMO Health's medical supplies partner DocShop Pro allows you to order directly from major manufacturers and distributors all from one intuitive order platform. Access major supplier catalogs and experience incredible savings via DocShop Pro's negotiated pricing.
Visit the DocShop Pro virtual booth here in the Exhibit Hall.
NEMO Health Leadership
Ali M. Safidiene, DPM, MBA, Chief Executive Officer
Dr. John Guiliana, DPM, MS, Executive Vice-President
Jeffrey Frederick, DPM, Executive Vice-President
Your Booth Rep
Jordan Crosby
Jordan is a multifaceted business and sales professional with many years of healthcare administration experience. He brings his passion and determination to NEMO Health as he enthusiastically works with clients to identify and meet their specific practice needs. Let Jordan help you expand your practice today!
Use the chat feature at the bottom of your screen to start a virtual conversation with Jordan now!