Welcome to the PodiatryMeetings.com Booth
TAKE SOME TIME TO HOVER AROUND
The PodiatryMeetings.com Booth is interactive with
various hover points built into the booth! 
Explore the booth by using your mouse to hover over all the different elements in the booth and learn how the resources provided by PodiatryMeetings.com can help you maximize your meeting experiences!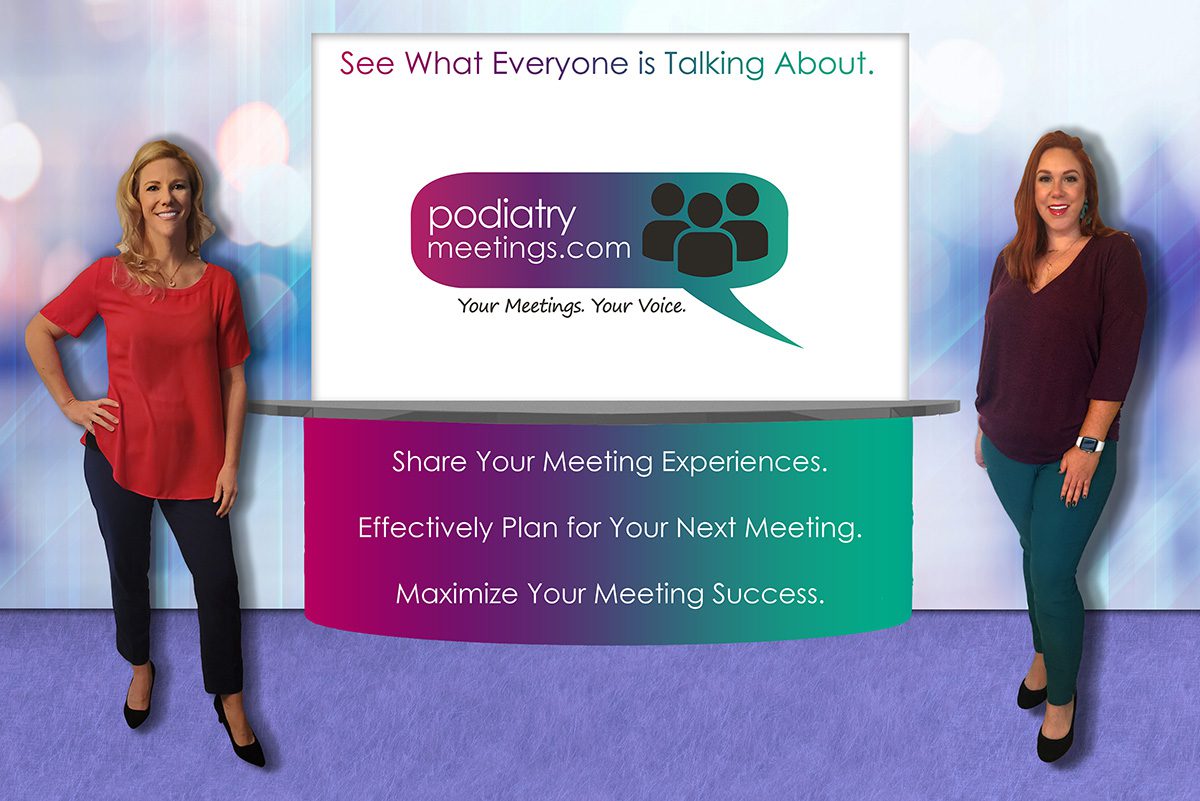 CLICK TO SEE SARAH IN ACTION
CLICK TO SEE ANN IN ACTION
Your #1 Podiatric Meeting Resource
PodiatryMeetings.com provides podiatric physicians and meeting exhibitors access to critical information to help choose and plan for which podiatric meetings, conferences, and seminars to attend.
We also strive to provide meeting planners/organizers with vital information to help with future meeting scheduling, as well as share feedback to continue to make meeting progress.
With an extensive meeting calendar, meeting ratings/feedback (from both DPMs and exhibitors), and travel tips, PodiatryMeetings.com is your top source of all-things podiatry meetings.
CLICK TO VISIT PODIATRYMEETINGS.COM
Share. Plan. Succeed.
We created PodiatryMeetings.com to give both DPMs and vendors a voice in an effort to help meeting planners make continued meeting progress!  So we created our SURVEY PAGE to allow you, your peers and colleagues share your meeting experience feedback!
Additionally, we have an extensive podiatric meeting calendar.  This is the go-to source for knowing which meetings are happening on-site, virtually, or as a hybrid meeting.... when and where!
Finally, Ann and Sarah share what they've learned over a combined 20 years in the podiatry space... from tips and tricks to maximize a learning experience.... to navigating some of the most exciting cities in the US!
Moving Meetings Forward
We Need Your Feedback Now More than Ever!
Meetings have changed…if not forever, at least for the foreseeable future.
The way meetings are delivered impacts our experiences with them…. so we want to know your thoughts!
If you have participated in a virtual meeting recently,
please take a short survey so we can improve based on your feedback.
Your Booth Reps
Ann Dosen

Ann is the founder of  Clover Conferences and is a co-founder of PodiatryMeetings.com. Clover Conferences handles all the tasks that often fall upon sales representatives or overwhelmed marketing directors for tradeshows – from registration to logistics.
Ann also works with organizations and associations to help plan and execute successful conferences and seminars. From researching event space to handling attendee registration and organizing the speakers and agenda, Ann can handle any task that needs to be accomplished on harsh deadlines!
Sarah Breymeier

Sarah is the founder of  Ten Toes Marketing Communications and is a co-founder of PodiatryMeetings.com.
Sarah has been planning, implementing and managing integrated marketing campaigns for the healthcare industry since 2007 and began focusing on podiatric marketing programs, specifically, in 2011.  Sarah/Ten Toes creates and implements sales and marketing programs for podiatric suppliers, educators and physicians.
PODIATRYMEETINGS.COM RESOURCES, DOWNLOADS, VIDEOS
Tricks of the Trade: DPMS
Browse Even if You're Not Shopping
Voice of the DPM
How To Make the Most of Meetings Amidst Covid
Tips for DPMs
How to Get the Most out of PodiatryMeetings.com
Taking the Podium:  Become an
Expert in the Eyes of Your Peers & Patients
Getting yourself on the podium has the potential to set you apart – on a higher level – in the eyes of your peers. This then provides an opportunity to showcase your achievements with your patients and others in your community.