Welcome to the DARCO Virtual Booth
DARCO International is dedicated to being the leading provider of post-op, trauma and wound
care solutions to the global foot and ankle community.  DARCO is committed to the promotion and
education of physicians engaged in the medical and surgical treatment of the foot and ankle
throughout the world.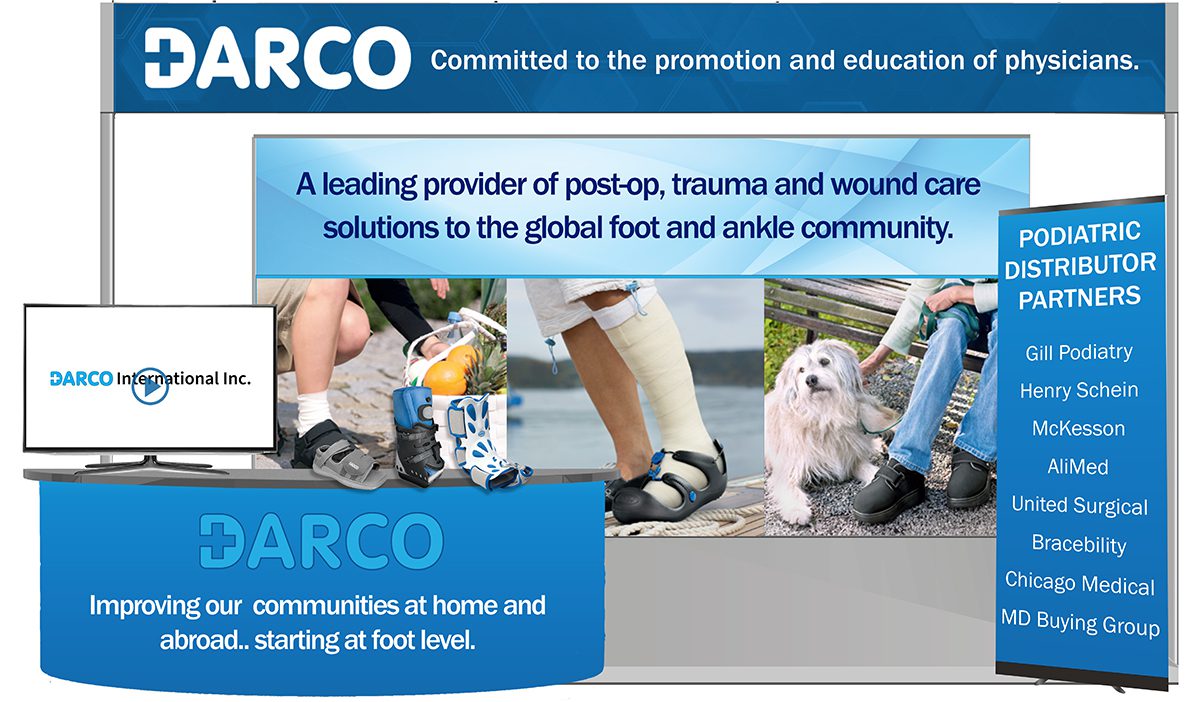 DARCO
We place great emphasis on continuing our own education as well as helping others continue theirs and are active supporters of educational initiatives worldwide.
DARCO has sponsored global symposiums and workshops in Germany, Austria and China as well as contributed over $500,000 to the Fund for Podiatric Medical Education (FPME) providing scholarships to podiatry students in the United States.
CLICK TO VIEW PRODUCT CATALOG
CLICK FOR POST-OP FOOT CARE
CLICK FOR TRAUMA FOOT CARE
CLICK FOR DIABETIC/WOUNDS FOOT CARE
CLICK TO SEE POST-OP SHOES
CLICK TO SEE PLANTAR FASCIITIS PRODUCTS
IMPACTING COMMUNITIES
At DARCO we are committed to providing quality podiatric products to those in need regardless of economic status or location. Since DARCO's founding in 1985, we have expanded across the globe with offices and employees in the United States, Germany, England, India, and China to establish and maintain a local presence in the geographies we serve. This global network allows us to build personal relationships with our partners to ensure our product design and services stay aligned with the needs of our diverse customer base. Whether it is the distributors who carry our products, the clinicians who prescribe them, or the patients who use them, our team is ready to provide support at every step of the product lifecycle making sure you get the most out of every DARCO product no matter where you are in the world.
CLICK FOR SPECIAL MESSAGE FROM DARCO PRESIDENT: DARREL DARBY
CLICK TO LEARN HOW TO PURCHASE DARCO PRODUCTS